Hybrid Mobile Applications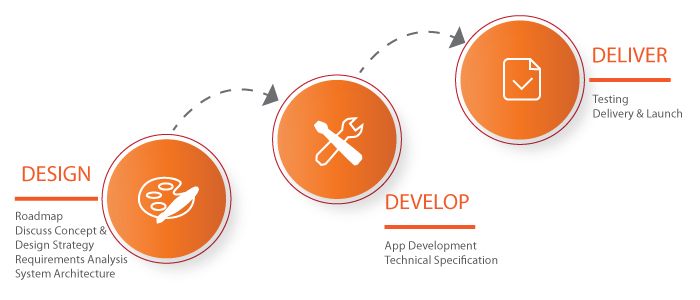 Hybrid Apps are like native apps, run on the device, and are written with web technologies (HTML5, CSS, and JavaScript). Hybrid apps run inside a native container and leverage the device's browser engine (but not the browser) to render the HTML and process the JavaScript locally. A web-to-native abstraction layer enables access to device capabilities that are not accessible in Mobile Web applications, such as the accelerometer, camera, and local storage.
Hybrid, by definition, is anything derived from heterogeneous sources or composed of elements of different or incongruous kinds. A hybrid app is one that is written with the same technology used for websites and mobile web implementations, and that is hosted or runs inside a native container on a mobile device. It is the marriage of web technology and native execution.
Often, companies build hybrid apps as wrappers for an existing web page; in that way, they hope to get a presence in the app store, without spending significant effort for developing a different app. Hybrid apps are also popular because they allow cross-platform development: that is, the same HTML code components can be reused on different mobile operating systems, reducing significantly the development costs. Tools such as PhoneGap and Sencha Touch allow people to design and code across platforms, using the power of HTML.

Process Flow For Hybrid Mobile App Development:
Requirement Gathering
App idea with the client for concept evaluation Refining the idea to make it more lucrative Creating final requirements document Finalizing the milestones to be achieved within a time period
Hybrid Mobile App Design
Choosing the right style of design for the hybrid app Creating the initial draft for the hybrid app design Finalizing the app design
Hybrid App Development
Choosing all the hybrid application resources (hybrid app objects, animation, background) Coding the essential hybrid application mechanics Making the first draft delivery of the application incorporating fundamental hybrid application play and expressions Working further on the hybrid application based upon the input Level Design and UI components creation Integration of all the components
Final Delivery
QA and Testing by experience QA team Final App Submission Submission of App to either play store or App store on the basis of client's need